Well! This week was pretty good. A lot happened.
We had zone activity on Monday, which was fun. I love this zone, we have good fun missionaries.
Tuesday we went on exchanges - Sis Jones came here with me and Stirling went to Elma with Bigley. It was fun! Jones (love her - we came out together) and I went to a relief society activity after knocking where we learned all sort of beauty tips, which I don't remember. But they had good chocolate cake.
Wednesday we had interviews with President and he stayed for our district meeting, which has always been a secret hope of mine! It's always great to see him and Sister Blatter - I just love them!
The last few days have just been a blur. It finally started raining again! #bringit.
Adrik's dad, Jeremy, passed away this weekend. Prayers for their family would be really appreciated right now :( I'm so glad that he was able to see Adrik baptized 2 weeks ago before he passed though, it was so special for him. We're hoping we will be able to teach the family about the plan of salvation soon and how they can be together forever. I have gained such a stronger testimony of the purpose of our life here in the past couple years. Death is not the end! I'm so excited to see my whole family someday where we can be reunited for eternity.
We had a member give us a referral for a lady he works for who had questions about the church, Sarah, and she is awesome! She was asking us all the perfect questions and is super interested! We had an amazing lesson with her and she really wants to turn her life around and be better :) I'm way excited for her. She lives way the heck out on Harstine Island, so it's a nice drive going to see her. So pretty!
Things have slowed a little bit in the area, but I know there's lots of good things bound to happen soon! President asked us to study faith, hope and charity in preparation for a zone conference this week. I read Hebrews 6:10-20 this morning which is probably one of my new favorite scriptures. (go read it. I'll make it easy and attach it to the bottom of this email) :) Hope is an abiding trust that God will fulfill His promises to us. And abiding trust means an enduring trust. God is perfect, He cannot lie and would not lie to us, therefore His promises are sure. We can be happy and find peace despite what is happening in life, and when we are doing what we should and trying our best, we can stand fast and wait for His promised blessings to be fulfilled. I love "hope." It has come to mean a lot more to me over the course of my mission. Everything works out in the end. Think of the armies in the scriptures who had to face innumerable enemies, the prophets put before unwilling and angry masses, famines that seemed endless, and all these things that came to prove that God is on our side. It was always "after the trial of their faith" that they received a witness. One of my favorite quotes has always been "Every thing will be alright in the end, and if it's not alright, it's not the end." Hope is what makes life more enjoyable, that despite the hard and dark days we can press forward with faith in Christ and hope for good things to come. As Christ tells us over and over, "Be of good cheer." I know that when we strive to fill our life with hope and put our faith in Christ, we are happier. We can stand firm amidst the craziness of life and know that the Lord is our light and our guide. I love Him so much! I'm so thankful for the gospel in my life and the hope that it gives me. I love you all so much and hope you have the best week!
Sister Wilson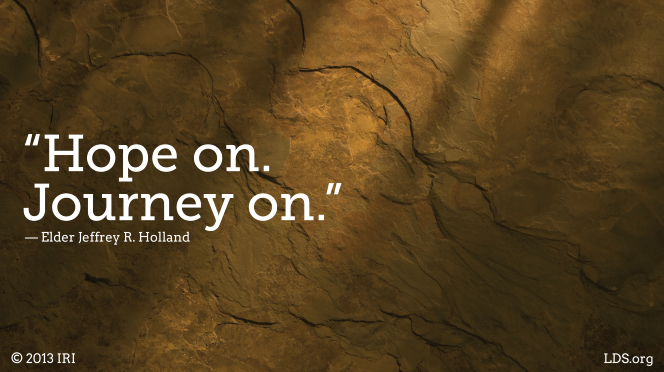 10 For God is not unrighteous to forget your work and labour of love, which ye have shewed toward his name, in that ye have ministered to the saints, and do minister.
11 And we desire that every one of you do shew the same diligence to the full assurance of hope unto the end:
12 That ye be not slothful, but followers of them who through faith and patience inherit the promises.
13 For when God made promise to Abraham, because he could swear by no greater, he sware by himself,
14 Saying, Surely blessing I will bless thee, and multiplying I will multiply thee.
15 And so, after he had patiently endured, he obtained the promise.
16 For men verily swear by the greater: and an oath for confirmation is to them an end of all strife.
17 Wherein God, willing more abundantly to shew unto the heirs of promise the immutability of his counsel,confirmed it by an oath:
18 That by two immutable things, in which it was impossible for God to lie, we might have a strong consolation, who have fled for refuge to lay hold upon the hope set before us:
19 Which hope we have as an anchor of the soul, both sure and steadfast, and which entereth into that within the veil;
20 Whither the forerunner is for us entered, even Jesus, made an high priest for ever after the order of Melchisedec.
we went on exchange and Sister Jones and I tried the experiment of rubbing ice on your face to make your skin healthy (which we learned at a RS activity). whether or not it worked I have no idea, but I wouldn't recommend it.
We had the door open for a bit and this dog came running into our house and just made himself at home...
going out for lunch with a member getting teriyaki! (I tried several things I never had before - be proud of me mom)
this lady didn't want to talk to us, but she gave us scissors and said take some of my flowers and left.
Olympic Mountain ice cream runs. #thebest
rainy day
we had interviews this week with President and Stirling and I gave a training at the district meeting he showed up to.. talk about pressure.